FHS' Miller, MCW's Anderson captain All-Area basketball team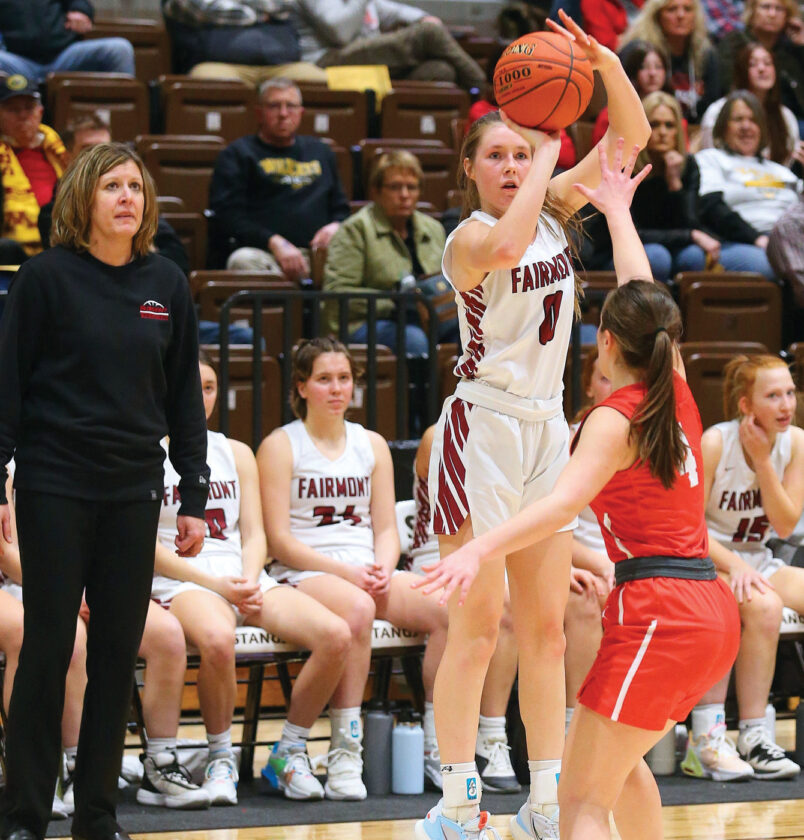 FAIRMONT — Fairmont freshman Brylee Miller and Martin County West sophomore Emily Anderson create multi-faceted defensive matchup problems for their respective opponents every time they step onto an area hardwood basketball court.
Standing just shy of 6 feet each, Miller and Anderson's overall length allows them to shoot over the prototypical high school guard, while their lateral quickness and deft basketball-handling skills allow each to maneuver around a majority of frontcourt players.
Both Miller and Anderson feel comfortable shooting behind the 3-point arc, in the mid-range sector of the floor and with their backs to the basket in the low post.
The talented county tandem's multi-tasking skills — crashing both ends of the glass, finding an open teammate with an accurate pass and playing smothering defense — play integral roles in helping elevate their teammates' performances en route to increasing the lineups' chances of being competitive and generating victories.
Miller played a pivotal role in guiding the Cardinals to a 15-11 overall record and an appearance in the Section 3AA, South Sub-Section championship game during her first season as a varsity starter.
Fairmont's fab freshman already etched her name into the program's record books by scoring 36 points in a 79-49 rout over Kerkhoven-Murdock-Sunburg during the Windom Holiday Tournament on Dec. 27. Miller's mark eclipsed Kirsten True's previous single-game scoring mark of 35, set in 2011.
The first-time all-Big South Conference choice displayed her versatility by topping the Cardinals in scoring with 381 points (14.7 points per game), 73 assists (2.8 apg) and 57 steals (2.2 spg), while netting the No. 2 spot in the lineup with 153 rebounds (5.9 rpg) in 2022-23.
The sharpshooting Miller scorched the nets by hitting 62.2 percent of her 2-point attempts (115 of 185), while draining a second-best team total of 42 3-pointers out of 107 shots for 39.3 percent.
For a second consecutive season, Anderson netted the No. 1 scoring total (379 points, 14.6 ppg) for the Mavericks to complement pulling down a team-leading 172 rebounds — 6.6 rpg — this winter.
The two-time Sentinel All-Area selection displayed her perimeter-to-post skills by connecting for a team-best 47 trifectas, making 60 of 83 free throws for 72 percent and blocking a second-best MCW mark of 42 opponents' shots in 2022-23.
Anderson distributed 62 assists, pocketed 49 steals and hit 89 of 175 shots from 2-point range for 50 percent to round out her outstanding season.
For both their individual and team contributions, Miller and Anderson have been selected as the 2023 Sentinel All-Area girls basketball players of the year.
Here's an inside glance at the rest of the publication's annual elite girls basketball selections.
McKenna Benck (Granada-Huntley-East Chain/Truman/Martin Luther) — A late-season injury put an abrupt end to another stellar basketball campaign by the Jaguars' junior point guard.
The two-time All-Area choice topped the purple-and-white attack in scoring with 342 points (14.3 ppg) to complement dishing out 1.8 assists per outing.
The 5-7 Benck displayed her tenacity on the boards by averaging 4.9 rebounds per game from her backcourt position to go with her deft defensive skills that created 3.3 steals per outing.
The perennial all-Valley Conference selection will return next season as an integral cog to build around for the Jaguars.
Naomi Jones (North Union) — The Top of Iowa Conference West Division first-teamer transformed quick-handed defense into instant offense for the Warriors in 2022-23.
The repeat All-Area selection topped North Union in both categories of points (308, 14.7 ppg) and steals (93, 4.4 spg) to help guide her team to a 15-6 overall record.
The 5-7 junior guard displayed her athleticism by pulling down 89 rebounds and distributing 37 assists on the campaign.
Jones made 59 of 86 free throws for 68.6 percent and 117 of 249 field goals for 47 percent to round out another outstanding season at the varsity level.
Sophia Keister (Blue Earth Area) — The 6-foot senior center evolved into double-double trouble for opponents this winter.
Keister utilized her length and vertical leap to pace the Bucs' boardwork by garnering 180 rebounds (8.2 rpg) during her final prep season on the hardwood courts.
Keister tossed in 252 points for a second-best team clip of 11.5 per outing, while recording a team-high 22 blocked shots at the defensive end. The senior center added 18 assists and 17 steals to cap the 2022-23 campaign.
Lola Lundquist (Blue Earth Area) — The second-year Buc starter topped the maroon-and-gold's statistical charts in scoring (305 points, 12.2 ppg) and assists (76) to cap a stellar performance.
The hard-working 5-2 freshman guard utilized her tenacity and athleticism to pull down 74 rebounds to complement pocketing 36 steals during the winter.
The hustling left-hander, who connected on 36 of 67 free throws for 53.7 percent, will be a cornerstone for Blue Earth Area to build around next season with teammate Katherine Armon.
Kari Matejka (Martin County West) — The perennial all-Valley Conference guard put the Maverick offense in motion by distributing a team-best 104 assists to complement pocketing the No. 1 steals total (69) from a defensive perspective.
The sharpshooting senior backcourt standout finished second in scoring with 244 points on the strength of her long-distance prowess.
Matejka led Martin County West by making 35 percent of her 3-pointers — 38 of 107 — to go with sinking 55 of 118 shots from 2-point range for 46 percent.
The four-year starter grabbed 82 rebounds to round out her stellar prep basketball playing days.
Olivia Mattson (GHEC/Truman/Martin Luther) — The all-Valley Conference choice battled through injuries to produce another solid hoops campaign in scoring and rebounding during the 2022-23 season.
The 5-10 junior forward generated a second-best 324 points (13.5 ppg) and pulled down 6.2 rebounds to help pace the Jaguars' 14-12 season.
The multi-tasking Mattson displayed her vertical leap and lateral quickness by recording 1.7 blocked shots, 1.7 steals and 1.6 assists per outing during her third varsity campaign.
Grace Pendergast (Fairmont) — The all-Big South Conference choice evolved into one of the Cardinals' top all-around statistical producers this winter.
The 5-9 junior shooting guard/small forward tallied 254 points (9.8 ppg) on the strength of a team-best 44 made 3-pointers out of 117 attempted behind the arc in 2022-23.
The smooth-shooting Pendergast made solid contributions on the boards (91 rebounds), in the passing lanes (63 assists) and on the defensive end (36 steals) during her second full season on the varsity roster.
Pendergast, who connected on 55 of 122 shots from 2-point range for 45.1 percent, will rejoin Miller and Nevaeh Rahm as valuable parts of the Cardinals' lineup next winter.
Nevaeh Rahm (Fairmont) — The all-Big South Conference selection edged out Miller for top rebounding honors by cleaning the glass for a team-high 158 boards — a 6.1 clip this season.
The 5-10 junior post player netted the Cardinals' No. 2 scoring mark with 275 points (10.6 ppg), and displayed her stellar passing skills by doling out 50 assists.
Rahm displayed her defensive talents by pocketing 32 steals and blocking 14 opponents' shots in 2022-23.
Rahm, who connected on 54.4 percent of her 2-point shots — 118 of 217 — returns to a Cardinals' lineup that posted a 15-11 record this winter.
Olivia Von Bank (North Union) — The Top of Iowa Conference West Division honorable mention selection generated solid numbers across the statistical charts during her final prep basketball season.
The 2021 All-Area basketball co-player of the year pulled down a second-best 110 rebounds (5.2 rpg) to complement the Warriors' third-best scoring clip of 8.6 points per outing en route to a total of 180 on the winter.
The 5-8 senior small forward pocketed 53 steals, distributed 50 assists and connected on 69 of 220 field goals for 31.4 percent to close out her stellar high school basketball playing days.